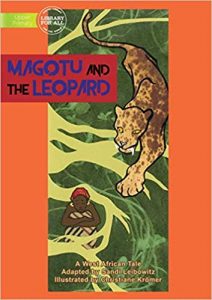 MAGOTU AND THE LEOPARD (Library for All). Click here to order. Illustrated by Christiane Krömer. This picture book, geared for children ages 9-14, is based on a West African folk tale. Magotu, the prettiest girl in her village, turns her nose down at all her many suitors. When a handsome stranger comes to town, she marries him right away, soon to discover he's not at all what she expected. Proceeds from this sale benefit not-for-profit organization Library For All, helping children around the world learn to read.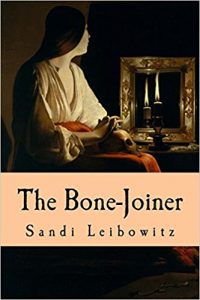 THE BONE-JOINER (Sycorax Press). Click here to order.
"Sandi Leibowitz's poetry collection invites the reader to join lovers and witches, artists and mythical beasts in lands made of jewels and bones. Whether it's an enchanted library, a ghost-ridden instrument, or the spells and incantations of the hopeful and the damned, it all comes together in a sensuous feast of words. Open this book, and fall headlong into a world more dangerous and beautiful than our mundane realm."
Jennifer Crow, author of The First Bite of the Apple
"This collection should be part of any speculative poet's library and I hope to see it nominated for an Elgin Book Award in the near future."
John C. Mannone, poetry editor of Abyss & Apex, Silver Blade, and Liquid Imagination; author of Apocalypse; winner of the 2017 Horror Writers Association Scholarship
"Shudders of longing and fear reverberate through Sandi Leibowitz's sumptuous debut collection of poetry. THE BONE-JOINER swims deep into the riches of folklore, fairy tale, and myth and returns with haunted eyes, mesmerizing scars and a wry smile. Here you'll learn the perils of loving a wild child who grows up more wolf than boy, hear the defiance of a man who rejoices in the impractical wing that supplants his arm, and swoon to the song of Old Bone, who knows you'll be happiest once you're submerged by his side in the crawfish-teeming river mud. Come join this bloody, enchanting, protean feast."
Mike Allen, Shirley Jackson Award-nominated author of Unseaming; editor of Mythic Delirium and Clockwork Phoenix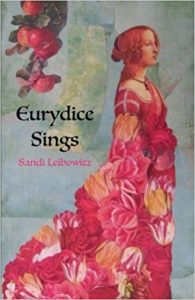 EURYDICE SINGS (Flutter Press) . The press is now out of business, so the book is out of print, but you can order copies (signed, if you like!), by sending me an email at sycoraxspecpo AT gmail.com.
"Fairy tales and myths are not for children or the faint of heart. In EURYDICE SINGS, Leibowitz guides us across the threshold and into a realm of darkness, power, pain, and heart-aching beauty. Highly recommended… Leibowitz is skilled at taking familiar stories and pulling out unexpected elements or points of view, particularly in regards to the experiences and voices of women. … the result is a sumptuous feast for the imagination."
Rebecca Buchanan, author of A With Among Wolves & Other Pagan Tales; editor of The Shining Cities: An Anthology of Pagan Science Fiction, Eternal Haunted Summer
"These beautifully wrought poems recast familiar tales in a different light. Highly recommended. Leibowitz's skillful touch makes these a pleasure to read.
Rhonda Parrish, editor of Fae, Niteblade, Elemental Anthologies, Alphabet Anthologies, Metastasis; assistant editor, World Weaver Press
"From fox-skinned girls and feathered queens to enduring ghosts and goddesses, Sandi Leibowitz shows us the familiar in new and often uncomfortable ways. We see our sisters and ourselves here, and we wrestled with the need to speak (or sing, or scream) our truths. Deliciously transgressive, EURYDICE SINGS gives voice to the primal, the vengeful, and the hungry at the heart of our beloved stories."
Shannon Connor Winward, author of Elgin-awarded winning chapbook Undoing Winter and To the Touch; editor Riddled With Arrows; winner of 2016 Dwarf Star Award, 2018 Delaware Division of the Arts Emerging Artist Fellowship in Fiction
GHOST LIGHT is a collection of non-speculative poems in a journal format. You may order here: https://www.amazon.com/dp/B08GFX3NM2/ref=sr_1_17?dchild=1&qid=1598129395&refinements=p_27%3ASandi+Leibowitz&s=books&sr=1-17&text=Sandi+Leibowitz
The poetry collection you are holding in your hands is a representative testament not only of our generation's most difficult trial—the pandemic —but also of the universality of how we continue to live—with audacity and grace… Hers is the hard gaze of witness, her poems resonating with heartbeat… Her visual and sonic imageries echo the importance of mindfulness and attention to life's fleeting moments, showing how memories enrich our struggles, even help us survive."
Jonel Abellanosa, author of Meditations and Multiverse
Scores of poems are being written about the pandemic, but Sandi Leibowitz's transcendent Ghost Light is the book we've been waiting for…This book is more than one poet's experience of the pandemic. "The Boat," a tribute to three members of one family who died in the pandemic, comes to mind as does "Breath," a poem that honors George Floyd and decries our current political situation. Ghost Light, in its haunting yet quotidian portrayals of objects and rituals, remind us how a skilled, imaginative poet can help us think through the pandemic and other current tragedies.
Marianne Szlyk, author of Poetry En Plein Air, On the Other Side of the Window, and I Dream of Empathy
Before you open "Ghost Light" and begin reading, make sure you are prepared for aloneness and loneliness, for solitude and soul-searching…It is a gentle but probing examination of what living in isolation means. What longing exists in the human spirit for connection to others. Through carefully crafted observations of day to day, week to week, month to month, seemingly endless separation, Leibowitz asks us to examine our own sense of abandonment in a crowded, bustling world. She shows us her fear and her courage with a tenderness that makes them our fear, our courage. "Ghost Light" reaches past the immediate repurcussions of a sentinel disease to teach us that life itself is
a journey rife with pitfalls,
no view forward beyond the bend,
the potential plunge to the abyss.
If that were all, if the entire tone of the book were nothing more than a sad acknowledgement of that potential plunge, the poems would still be worth reading. But that is not all. .. She helps us realize the worth of our interconnectedness… So take a deep breath, let it out, and open "Ghost Light". You will discover yourself, your family, your friends, and strangers you may have known. They are written here by an observant mind, a heart open to pain, and a soul confident that the human spirit is greater than any temporary separation. Join the instinctive hope of a child in the face of broken things… It's not the last dance, after all. In the empty wings of the shuttered theater that is our country, there is a light still glowing against despair.
Jim Lewis, Editor of Verse-Virtual and author of a clear day in october, every evening is december, and do you hear it?
THE DREAMER OF SARANBY (Audible) Click here to order.
This short-story audio book is an original fairy tale for children. The orphan Rhaps never intended to be a prophet, but when others discover the predictive power of his dreams, they sequester him in the local mill, where the villagers line up each morning to await their fortunes. Will he ever regain his freedom?
ANTHOLOGIES (a selection)
Reading 5 X 5, edited by B. Morris Allen. Five writers in five different speculative fiction genres were each supplied the same template for a story. Check out how the authors created their own tales, including Sandi Leibowitz's "The Tongue of the Chimera." Available in Writers' and Readers' editions, and in paperback or Kindle. Click here to order.
Metaphorosis 2016, edited by B. Morris Allen. A years' worth of superb speculative fiction originally published in Metaphorosis. Includes Sandi Leibowitz's original fairy tale for grownups, "The Nature of Glass." Click here to order.
The Best of Luna Station Quarterly: The First Five Years, vol. 1, 2016, edited by Jenifer Lyn Parsons. Selected stories published in Luna Station Quarterly, a magazine of speculative fiction by women. Includes Sandi Leibowitz's story "Scylla in Blue Light." Available in paperback. Click here to order.
The Best Horror of the Year, volume 5, 2013, edited by Ellen Datlow. Stories by Margo Lanagan, Kij Johnson, Jeffrey, Ford, Larid Barron, and others. Poems by Sandi Leibowitz and Kevin McCann. Available in paperback and Kindle. Click here to order.
Gaia: Shadow & Breath, vol. 3 (Pantheon Magazine). Includes Sandi Leibowitz's story "Just a Boy." Click here to order.
Speculative Story Bites, edited by Gerri Leen. Kindle edition. Includes Sandi Leibowitz's story "Ligeia." Click here to order.
Mythic Delirium vol. 1, 2014, edited by Mike and Anita Allen. Stories by Ken Liu, Jane Yolen, Yoon Ha Lee, Marie Brennan, Amal El-Mohtar and more, and two poems by Sandi Leibowitz. Click here to order.
The Dark Ones: Tales and Poems of the Shadow Gods (Bibliotecha Alexandrina), edited by Gerri Leen. Includes seven poems by Sandi Leibowitz. Click here to order.
Metastasis: A Charity Anthology Benefiting Cancer Research (Wolfsinger Publications), edited by Rhonda Parrish, 2013. Includes the story "Alchemical Warfare" by Sandi Leibowitz. Click here to order.